Collaborate
The Northwest Heart Failure Collaborative (NWHFC) Project ECHO was a bimonthly case conference webinar series that was offered from May 2016 through February 2019. The series aimed to improve the care of patients with heart failure by offering online continuing education for community providers. This unique training program built on an existing education-practice partnership between UW Medicine and the UW School of Nursing. Funding was provided by a Health Resources and Services Administration (HRSA) training grant (PI: Brenda Zierler, PhD, RN, FAAN).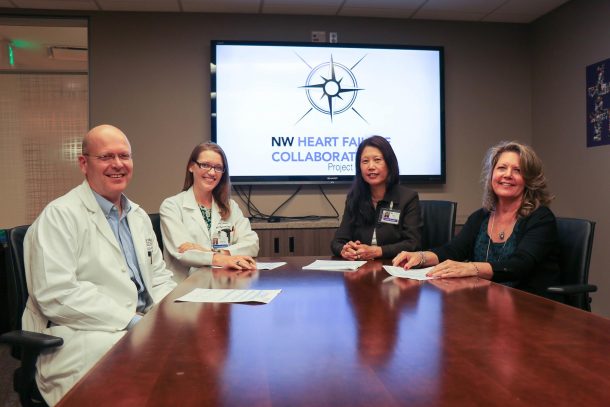 Recorded Webinars
Didactic presentations from each webinar were recorded and are available to view on the Northwest Heart Failure Collaborative YouTube channel.
Information about the webinars, including learning objectives, are available in the following pdf:
NWHFC Project ECHO Recorded Webinars
About Project ECHO
Project ECHO is a lifelong learning and guided practice model that revolutionizes medical education and exponentially increases workforce capacity to provide best-practice specialty care and reduce health disparities. The heart of the ECHO model™ is its hub-and-spoke knowledge-sharing networks, led by expert teams who use multi-point videoconferencing to conduct virtual clinics with community providers. In this way, primary care doctors, nurses, and other clinicians learn to provide excellent specialty care to patients in their own communities.
Project ECHO® (Extension for Community Healthcare Outcomes) is a movement to demonopolize knowledge and amplify the capacity to provide best practice care for underserved people all over the world.
Project ECHO started as a way to meet local healthcare needs. Sanjeev Arora, M.D., a liver disease doctor in Albuquerque, was frustrated that thousands of New Mexicans with hepatitis C could not get the treatment they needed because there were no specialists where they lived. The clinic where he worked was one of only two in the entire state that treated hepatitis C.
Dr. Arora was determined that all patients in need of treatment should get it. He created Project ECHO so that primary care clinicians could treat hepatitis C in their own communities.
Launched in 2003, the ECHO model™ makes specialized medical knowledge accessible wherever it is needed to save and improve people's lives. By putting local clinicians together with specialist teams at academic medical centers in weekly virtual clinics or teleECHO™ clinics, Project ECHO shares knowledge and expands treatment capacity. The result: better care for more people.
Treatment for hepatitis C is now available at centers of excellence across New Mexico, and more than 3,000 doctors, nurses and community health workers provide treatment to more than 6,000 patients enrolled in Project ECHO's comprehensive disease management programs for myriad conditions. A 2011 study published in the New England Journal of Medicine showed that the quality of hepatitis C care provided by Project ECHO-trained clinicians was equal to that of care provided by university-based specialists.
What's more, Project ECHO has expanded—across diseases and specialties, across urban and rural locales, across different types of delivery services, and even across the globe. Today, Project ECHO operates more than 110 hubs for more than 55 diseases and conditions in 21 countries. For more information about Project Echo, please visit http://echo.unm.edu/.
Other Project ECHOs at the UW
Healthcare providers can connect with UW Medicine experts through a number of different ECHO programs. For a list of ECHOs, visit https://www.uwmedicine.org/provider-resource/consultations.