Join all Health Sciences students in reading this year's common book, engage in discussions about what an antiracist society might look like, and how we can play an active role in building it.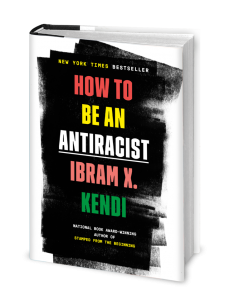 Each year, the Health Sciences Service Learning & Advocacy Committee selects a Common Book that serves as a platform for students from across health professions to learn together on topics of common importance. Throughout the school year students have the opportunity to participate in a series of lectures, interactive discussions, advocacy efforts, and seminars focused on the major topic(s) of the book.
In this year's common book, HOW TO BE AN ANTIRACIST, National Book Award-winning author, Ibram X. Kendi points us toward liberating new ways of thinking about ourselves and each other. Instead of working with the policies and system we have in place, Kendi asks us to think about what an antiracist society might look like, and how we can play an active role in building it.
Common Book Events & Opportunities to Learn Together
Book Club for Health Sciences Students will meet several times per quarter. These discussions will take place on Thursdays at the lunch hour via Zoom, and will provide an opportunity for folks to discuss and gain deeper understanding of Dr. Kendi's work.
Book Club Dates for Fall 2020: October 15, October 29, November 19, December 10
Intergroup Dialogue (IGD) Workshops for Faculty and Staff will take place in cohorts throughout the academic year.  IGD is a communication technique that facilitates dialogue across group differences.  The goal for training is to increase faculty and staff members' cultural proficiency using the IGD framework by increasing their ability to hold difficult conversations (about race, class or gender, for example) between and among different groups. Skilled trainers, who are also faculty in social work and public health, will lead these trainings.
Faculty/Staff Sign Up for a Workshop
Dr. Kendi Visits Seattle with the Seattle Arts and Lectures Series.  Tickets are now available for Dr. Kendi's visit on Wednesday, April 7 2021 at 7:30pm.  Discount tickets are available for students.
About the Author
IBRAM X. KENDI is one of America's foremost historians and leading antiracist voices. He is a #1 New York Times bestselling author and the Founding Director of The Antiracist Research & Policy Center at American University in Washington, DC. A professor of history and international relations, Kendi is a contributor at The Atlantic and CBS News. Kendi is a Professor of History and the Founding Director of the Boston University Center for Antiracist Research. He is the 2020-2021 Frances B. Cashin Fellow at the Radcliffe Institute for the Advanced Study at Harvard University. He is the author of THE BLACK CAMPUS MOVEMENT, which won the W.E.B. Du Bois Book Prize, and STAMPED FROM THE BEGINNING: THE DEFINITIVE HISTORY OF RACIST IDEAS IN AMERICA, which won the National Book Award for Nonfiction in 2016. At 34 years old, Kendi was the youngest ever winner of the NBA for Nonfiction. His third book, HOW TO BE AN ANTIRACIST, was a #1 New York Times Bestseller and made several Best Books of 2019 lists.
Copies of the book are available on reserve through the Health Sciences Library, or you can purchase from your favorite bookseller. Students who have financial hardship, please contact Leonora Clarke (clarkel@uw.edu).