Collaborate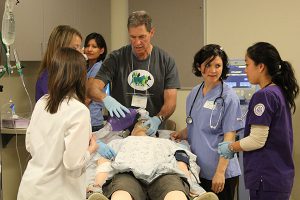 Are you intimidated by the word "simulation"? Teaching with simulation has gained in popularity due to its positive impact on student outcomes. Our simulation lessons will train you how to teach effectively with simulation. They cover the basics to advanced applications. There are also tools to help you plan your simulations, develop your simulation scenarios, and track students' outcomes. Simulation will be a powerful teaching tool for you. You will not be intimidated by the word "simulation" again.
All Teaching with Simulation lessons, except Sim 204, require the most up-to-date version of Flash Player in your web browser. Since Flash Player is not compatible with Apple Safari, we recommend using Google Chrome or Mozilla Firefox. We will replace our Flash video files with mp4 versions by the end of 2020.
Sim 101: Introduction to Clinical Simulation
Sim 102: Pedagogical Approaches in Simulation for Developing Critical Thinking
Sim 103: Designing and Writing a Simulation Scenario
Sim 104: Briefing and Debriefing—The Key to Learning in Simulation
Sim 201: How to Evaluate Learning Using Simulation
Sim 202: Matching Human Patient Simulators to Clinical Educational Outcomes
Sim 203: Bringing Realism to Simulation
Sim 204: Designing and Leading IPE Sessions
Acknowledgements
The Teaching with Simulation Lessons  were developed with funding from a Health Resources and Services Administration (HRSA) faculty development grant: Integrated Technology into Nursing Education & Practice Initiative (ITNEP) (Grant U1KHP09543). Principal Investigators: Brenda K. Zierler, PhD, RN, FAAN (University of Washington), Suzan Kardong-Edgren, PhD, RN (Washington State University), Erin Pringle, MS, RN (University of Alaska-Anchorage), Glenna Burg, MS, RN (Montana State University), and Robin E. Pattillo, PhD, MEd, RN (Idaho State University).