Work alongside your health science colleagues to serve the needs of our local communities.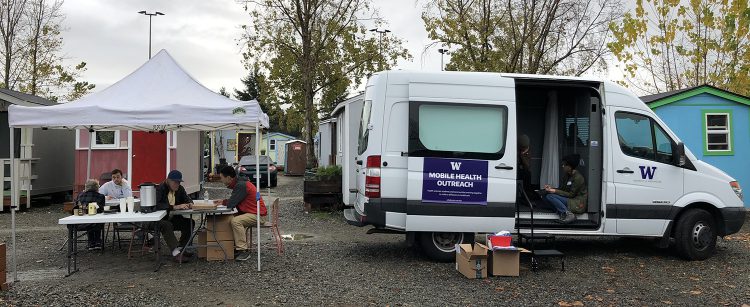 This Fall marks the beginning of an exciting new student run free clinic.  UW Health Sciences students will be partnering with Harborview Medical Center (HMC) Downtown programs to provide urgent care services to residents of Low Income Housing Institute's Tiny House Villages.   Health sciences students will work on interprofessional teams to respond to community identified health needs while further developing their teamwork and clinical skills.
There are two "tracks" for health sciences students to participate in this program.
The first, the Interprofessional Service Learning Leaders Program, requires a more significant time commitment.  It also allows for deeper engagement with service and the communities we serve, more structured learning opportunities to build teamwork skills, and the opportunity to serve in a leadership capacity with this program.
There is also the opportunity to participate as a One-Time Volunteer with the HMC Mobile Health Outreach program.
Who is eligible to participate? All graduate level health sciences students + BSN/ABSN nursing students are eligible to participate.  At this time, we are not accepting undergraduate volunteers for the HMC MHO Program.
Details and registration information can be found below.
Interprofessional Service Learning Leaders Program
This program provides health sciences students:
in-depth training around teamwork and collaboration
the opportunity to participate in at least two outreaches
opportunities for leadership within this pilot program
We will be accepting a cohort of students and require that all participants commit to completion of all elements of the three-part program. Space is limited in this program.
Part 1: Framing & Orientation – Attend an in-person IPE skills training session (2 hours); complete selected required online modules (approx. 1 hour).
Part 2: Service Learning Experience – Participate in at least two outreaches with the MHO van between November 2022-June 2023. Outreaches will take place on weekday evenings and weekend late afternoons.
Part 3: Reflect & Look Forward – Attend an in-person reflection workshop during Spring quarter. Dates/time will be determined by the group as we get closer.
The registration is now open.  We will notify the cohort selected by the first week of October 2022. Space is limited and spots will be filled based on a number of factors including ensuring a diversity of professions and promptness of registration.
Register for the SL Leaders Program
MHO One-Time Volunteer
We understand what a unique and compelling opportunity this pilot project is.  For this reason we want to make sure that there is the opportunity for a wide variety of students to participate in this experiential and community-oriented IPE program. We have reserved some spaces on our outreaches for students to participate, without a commitment to the Service Learning Leaders Program. 
If you are interested in volunteering with the program, please complete the registration form below and we will be in touch by first week of October with details about how to sign up for an outreach.  Registered students will be asked to complete selected required online modules (approx. 1 hour), and will be guaranteed one opportunity to volunteer at a Tiny House Village during the 2022-23 academic year.  If available, students might have the opportunity to register for more than one volunteer opportunity but this is not guaranteed. 
Register as a One-Time Volunteer
Additional Service Learning Opportunities for Health Sciences Students
University District Street Medicine (UDSM) is a registered student organization that involves interprofessional students and utilizes that medical van for street outreach.  While UDSM is not affiliated with the HMC MHO Program, it is yet another opportunity be involved in similar work.  If neither of the above opportunities will work, or you are looking for more engagement please reach out directly to the UDSM leadership via their website.
The School of Medicine Service Learning Website is another place to learn about service opportunities for health sciences students.
Watch: UW's Mobile Health Van Hits the Road
Questions? Contact Tori Verhulst: vrv3@uw.edu