Work alongside your health science colleagues to serve the needs of our local communities.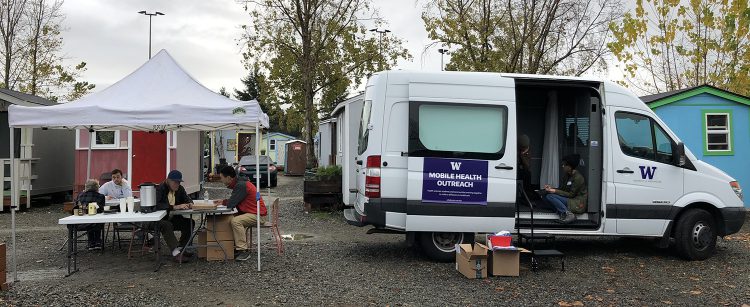 The Harborview Medical Center Mobile Health Outreach (HMC MHO) Program is a free clinic staffed by volunteers students and clinicians.  It provides supportive bridge-to-care services to residents of two Seattle Tiny House Villages, in collaboration with our community partner, Low Income Housing Institute. The HMC MHO meets patients where they are, and offers basic outreach and engagement, referrals, and acute and transitional medical care.
Volunteer Eligibility and Requirements:
All graduate level health sciences students + BSN/ABSN nursing students are eligible to participate.  At this time, we are not accepting undergraduate volunteers.
The program seeks student volunteers who are:
committed to the values of service and health equity
willing to complete two hours of online pre-volunteer training, and
available to volunteer two times during an academic quarter (outreaches take place on Tuesday evenings and Sunday afternoons)
Registration is now open for student volunteers to help support this program during Fall 2023, Winter 2024 or Spring 2024.  There are a limited number of spaces available for volunteers each quarter. After completing the registration a member of the MHO team will reach out with additional details about participation. 
Additional Service Learning Opportunities for Health Sciences Students
University District Street Medicine (UDSM) is a registered student organization that involves interprofessional students and utilizes that medical van for street outreach.  While UDSM is not affiliated with the HMC MHO Program, it is yet another opportunity be involved in similar work.  For more information please reach out directly to the UDSM leadership via their website.
The School of Medicine/UW Health Sciences Service Learning Website is another place to learn about service opportunities for health sciences students.
Questions about Harborview MHO? Contact Ashley McPeek: mcpeekas@uw.edu