Collaborate
April 30, 2021
2021 Virtual Team Science Boot Camp
Since 2018, the UW Institute of Translational Health Sciences (ITHS) has partnered with the UW Center for Health Sciences Interprofessional Education, Research and Practice (CHSIE) to provide an annual Team Science Boot Camp—team training for interdisciplinary translational research teams in the WWAMI Region. In previous years, the Team Science Boot Camp has been held in-person; however, due to the COVID-19 pandemic the training was offered online for the first time. As a result, more teams than ever were able to join this year from universities and health care organizations across the WWAMI region and beyond. 19 teams and a total of 97 individuals from Washington, Idaho, Alaska, Montana, Oregon and Michigan participated.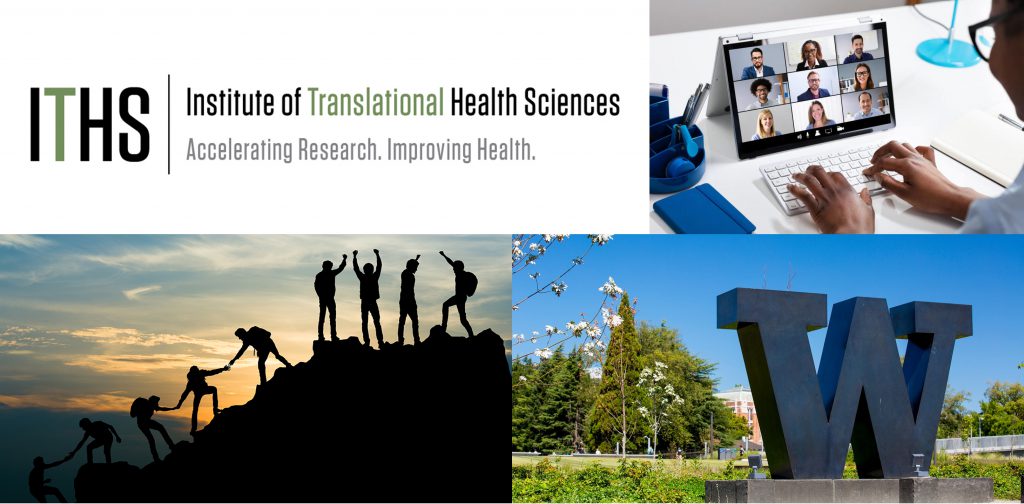 The ITHS Team Science Core training team is led by Brenda Zierler, PhD, RN, FAAN; Erin Blakeney, PhD, RN; Jennifer Sprecher, MS; and Nicole Summerside, MHA. What sets the ITHS Team Science Boot Camp apart from most other Team Science trainings is the focus on a team approach to problem-solving rather than individual professional development. In order for a team to participate, at least 3 members must commit to attending all sessions of the training.
What had previously been a 1.5-day in-person workshop transitioned to five sessions, Monday–Friday for two hours from 12:00–2:00 pm. Participants received articles and short presentations to view prior to the training so that teams could spend more time working together during the training. The hands-on nature of the workshop transitioned well to the online format and team were provided with dedicated working time at the end of each day to move their research projects/studies forward.
The Team Science Boot Camp training content is tailored each year toward addressing and solving specific challenges that the attending team are facing. On the first day, each team decided on one of their challenges to focus on during the Boot Camp. From then on, sessions were presented in a sequence intended to address different components of the teams' challenges.

Example topics from the Team Science Boot Camp include Lean Project Management, Giving and Receiving Feedback, Meeting and Time Management, Working/Communication Styles, Addressing Conflict, Leadership Skills and more. Teams that attend the Boot Camp build stronger relationships and acquire strategies and tools to help them become more efficient and effective in their teamwork. To read more about the training, visit the 2021 Team Science Boot Camp information page at .
To learn more about Team Science, why it is important and how to positively influence team processes, click here to download a short PowerPoint voiceover slide presentation.
For information about upcoming Team Science trainings provided by the Institute of Translational Health Sciences in partnership with the UW Center for Health Sciences Interprofessional Education, Research and Practice, visit the ITHS Professional Development webpage at https://www.iths.org/education/professional-development/.
---