This three-part curriculum is aimed at developing a foundational understanding of other health professionals' roles and responsibilities, and the skills needed to effectively collaborate with a diverse healthcare team. The curriculum is designed to help students meet their programs' accreditation requirements for IPE.
Below you will find descriptions of each of the three parts of the Core Curriculum and information about how to register for the sessions.  Health sciences students, please look out for information from your programs about the specifics of your IPE requirements. Students required to complete the Core Curriculum are asked to register themselves for Part 1, Part 2 and Part 3, described below.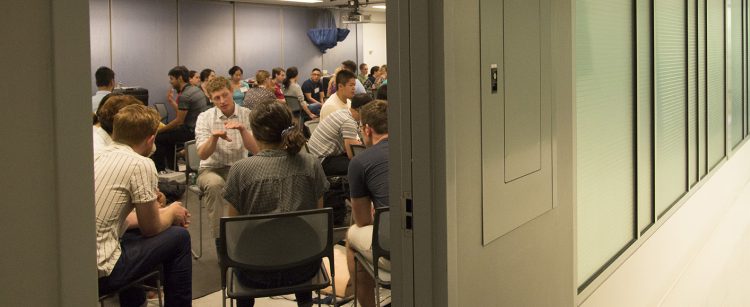 Part 1: Complete one Foundations for IPE Session during Autumn quarter
The goal of this relational and interactive activity is to introduce the benefits of working together, to learn foundational concepts and skills for effective teamwork, and to begin practicing these skills through hands-on learning.
The same session will be offered five times during Autumn quarter. All sessions will be held in person in the new Health Sciences Education Building, on Wednesdays from 4:30pm-6pm. 
October 12, 2022

October 19, 2022

October 26, 2022

November 2, 2022

November 9, 2022
The registration deadline for Part 1 is Friday October 7th, 2022.
Part 2: Complete at least one Interprofessional Active Learning Session (iPALS)
After completing a Foundations of IPE session in Autumn, students can select at least one topic from the list of Interprofessional Active Learning Sessions (iPALS). These sessions cover a range of important topics that benefit from an interprofessional and collaborative approach.  They are interactive and often case-based, and they examine important issues in healthcare from the micro, mezzo and macro perspectives. We hope you will find a topic that is of special importance or interest to you, and enjoy the opportunity to expand your understanding through engagement with future colleagues from across health professions.
iPALS will be held from 5:30-7:30pm PT via Zoom on the following dates:
November 22, 2022 – Ethics Lab: When Patients Refuse Recommended Interventions
November 30, 2022 – Creating an Inclusive Healthcare System for People with Intellectual Disabilities
January 4, 2023 – Homelessness and Health
January 10, 2023 – LGBTQ+ Health and Healthcare
January 19, 2023 – Weight Stigma and Clinical Care
January 24, 2023 – Ethics Lab: Ethical Considerations Surrounding Brain Death
February 1, 2023 – Environmental Services Workers as Members of the Healthcare Team (in person session)
February 6, 2023 – Language Interpreters as Members of the Healthcare Team
February 15, 2023 – Interprofessional Approaches to HIV in Primary Care
February 23, 2023 – Addressing Stigma Related to Mental Health, Addiction, Homelessness and Incarceration – Perspectives from People with Lived Experience
March 28, 2023 – Ethics Lab: Patients who Want "Everything Done" – Futility and Medically Inappropriate Interventions
April 3, 2023 – A Team-Based Approach to Clinical Error Disclosure
Part 3: Complete one Retrospective Session during Spring quarter
This relational and interactive session will give students the chance to reflect and make meaning of their IPE experiences.  Students will be provided tools and other resources to continue this aspect of their professional identity development and skill set throughout their training and entry into practice. 
The same session will be offered five times during Spring quarter. All sessions will be held in person in the new Health Sciences Education Building, on Wednesdays from 4:30pm-6pm. 
April 19, 2023

April 26, 2023

May 3, 2023

May 10, 2023

May 17, 2023
Questions about the IPE Core Curriculum?  Contact Tracy Brazg: tbrazg@uw.edu