This three-part curriculum is aimed at developing a foundational understanding of other health professionals' roles and responsibilities, and the skills needed to effectively collaborate with a diverse healthcare team. The curriculum is designed to give students an intentional and step-wise introduction to IPE and collaborative practice, while helping them to meet their programs' accreditation requirements for IPE.
Below you will find descriptions of each of the three parts of the Core Curriculum and information about how to register for the sessions.  Health sciences students, please look out for information from your programs about the specifics of your IPE requirements. Students required to complete the Core Curriculum are asked to register themselves for Part 1, Part 2 and Part 3, described below.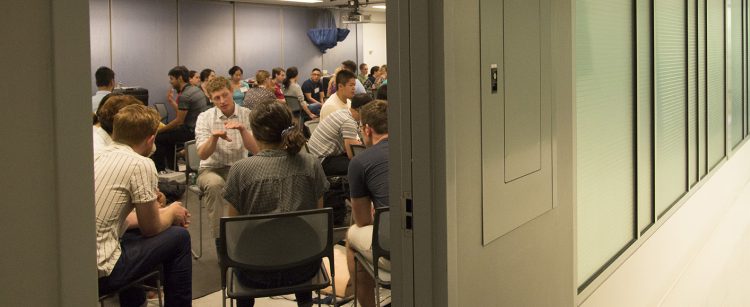 Part 1: Complete one Foundations of IPE Session during Autumn quarter
The goal of this relational and interactive activity is to introduce the benefits of working together, to learn foundational concepts and skills for effective teamwork, and to begin practicing these skills through hands-on learning. After participating in this session students will be better prepared to work alongside other professions in Parts 2 and 3 of the Core Curriculum. 
The same session will be offered six times during Autumn quarter. All sessions will be held in person in the new Health Sciences Education Building.
Wednesday October 11, 4:30-6:00pm

Wednesday October 18, 5:30-7:00pm

Wednesday October 25, 4:30-6:00pm

Friday October 27, 10:00-11:30am

Wednesday November 1, 5:30-7:00pm

Wednesday November 8, 4:30-6:00pm
The registration deadline for Part 1 is Friday October 6th, 2023. If you have trouble registering using the link below, try using a different browser or "incognito" as you will need to log in to Microsoft Forms with your UW credentials.
Part 2: Complete
at least one

Interprofessional Active Learning Session (iPALS) or a Clinical Skills Workshop

Part 2 of the Core Curriculum gives students opportunities to practice working together through interactive case discussions, or learning/practicing important clinical skills that are shared by multiple professions.  The activities are described in some detail below. If you are looking for a simple list of topics and dates, please visit the registration page.
Interprofessional Active Learning Sessions (iPALS)
iPALS mostly take place on Zoom and cover a range of important topics that benefit from an interprofessional and collaborative approach.  They are interactive and often case-based, and they examine important topics in healthcare from the micro, mezzo and macro perspectives.
Clinical Bioethics Labs
Ethical decision making in healthcare is best accomplished when diverse perspectives of the team and the patient are considered. Bodemer Interprofessional Ethics Labs provide the opportunity for students from across professional training programs to learn and practice basic tools for ethical decision-making in healthcare settings.  In 2023-24 two ethics labs will be offered: 
When Patients Decline Recommended Interventions,

January 9, 2023, 5:30-7:30pm on Zoom

 

Ethical Considerations Surrounding Brain Death,

March 27, 2024, 5:30-7:30pm on Zoom

 
Session Developers / Content Experts: Gina Campelia PhD, HEC-C; Maya Scott MSW, LICSW; Tracy Brazg PhD, MSW, MPH 
Ethics labs are supported by the UW Department of Bioethics and Humanities and the Charles W. Bodemer Lectureship.   
Inclusivity on the Healthcare Team
An important goal of IPE is to provide opportunities to learn about the roles and responsibilities of other health care professionals.  In particular, the UW IPE curriculum aims to highlight the roles of sometimes under-recognized team members in medicine. In 2023-24 two sessions will be offered in this topic area: 
Environmental Services Workers as Members of the Healthcare Team,

January 30, 2024, 5:30-7:30pm on Zoom
Language Interpreters as Members of the Healthcare Team,

February 13, 2024, 5:30-7:30pm on Zoom
Caring for Patients Together
IPE is designed to give students the opportunity to learn more about how to care for specific patient populations or communities, together. In 2023-24 two sessions will highlight the unique experiences, perspectives and needs of diverse patient populations.  
Weight Stigma and Clinical Care,

January 18, 2024, 5:30-7:30pm on Zoom

Session Developers / Content Experts:

 

Erin Harrop

PhD, MSW and

 

Lisa Erlanger MD
Patient Perspectives: Addressing Stigma Related to Mental Health, Addiction, Homelessness and Incarceration,

January 22, 2024, 5:30-7:30pm on Zoom

Session Developers/Content Experts:

Susan Mason,

Principal at Susan Mason Consulting;

Rekina Perry,

Executive Director, Organization for Prostitution Survivors;

 

Dallas Redlin, Addiction and Substance Abuse Counselor King County Jail;

MerriLynn Leslie, Community Advocate
The

Arts and Interprofessional Collaboration
This session pushes the boundaries of "traditional" learning methods in health professional training and provides students an opportunity to work collaboratively on a piece of abstract art inspired by a complex Seattle intersection within a historically red lined district. Students will carve a ceramic tile inspired by an important moment on their journey to a career in the health sciences. Further, students will have the opportunity to create additional tiles collaboratively which touch on a variety of themes, including aesthetics, historical red-lining, and their personal stories that lead them to pursue a career in healthcare and healing.  
Pathways and Intersections: Ceramic Interprofessional Education Session,

November 20

th

from 5:30-8:30pm

IN PERSON

 
Session Developers / Content Experts:  Anders Ledell, Medical Student and Ceramic Artist 
Climate Change and Health
Climate change is an important issue of today and has direct impacts on the physical and emotional well-being of patients and communities. Given the enormous and complex problem, interprofessional collaboration is required in efforts to address the challenges confronted by patients, healthcare systems, and communities. 
Climate Change and Health: Micro, Mezzo and Macro Considerations,

February 7, 2024, 5:30-7:30pm on Zoom
Session Developers / Content Experts: Stefan Wheat, MD
Clinical Skills Workshops
Clinical Skills Workshops are in person and provide opportunities for students to strengthen important skills, together, with a focus on broadening the understanding of how different professions often need similar skills to provide the highest quality of care. Three clinical skills workshops will be offered, each two times, during 2023-24.
De-Escalation in Clinical Settings
All health professionals need to know how to approach situations in which people are becoming angry and potentially violent. De-escalation is a series of techniques and skills aimed at reducing anger and frustration, demonstrating empathy, and maintaining safety for all who are involved.  In this interactive simulation workshop, you will learn and practice basic skills for de-escalation with colleagues from other health professions schools.
Session dates: Wednesday January 24 or Monday January 29, 5:30-7:00pm (in person)
Best for: All health professions students seeking an introduction to de-escalation techniques
Naloxone Administration and Harm Reduction
Opioid overdose caused the deaths of over 100,000 Americans in 2021, the most ever recorded. Naloxone administration prevents overdose-related death, but too few in our community are prepared to respond when faced with this critically time-sensitive situation. In this interactive simulation workshop, students from all health professions schools will learn to recognize opioid overdose, administer naloxone in a community setting, and engage appropriate follow-up care after naloxone administration. We will also identify available harm reduction strategies for those with OUD, including naloxone prescription and training and safer injection practices.
Session dates: Tuesday January 16 OR Wednesday January 31, 5:30-7:00pm (in person)
Best for: All health professions students
Blood Pressure Measurement and Management in Low Resource Settings
Hypertension is the most common chronic disease in the United States and contributes to the deaths of almost 500,000 Americans each year. Hypertension and other chronic conditions can be difficult to control but the challenge escalates dramatically for those who are unhoused or uninsured. In this workshop, learners from clinical professions will discuss accurate measurement of blood pressure in resource limited settings, dietary counseling for those with inadequate access to healthy food, and strategies to access, store and adhere to therapy.
Session dates: Wednesday January 3 OR Thursday February 8, 5:30-7:00pm (in person)
Best for: Any health profession student for whom blood pressure measurement is within scope of practice.
Dermatology in Primary Care
Dermatologic complaints are very common in primary care, providers often feel underprepared and access to dermatologists is limited in resource-poor settings. Accurately diagnosing dermatologic conditions is possible with a systematic approach. This interactive case-based seminar aims to increase your confidence and accuracy in dermatology. We will focus on cases encountered in an underserved community health setting with a focus on skin of color and interactive questions through Mentimeter. The second session will include hands-on skin biopsy practice and focus on neoplasms. While attending both sessions is not required, we encourage participation in both if possible.
Session dates: Wednesday January 10 and/or Thursday January 25, 5:30-7:00pm (in person)
Best for: These sessions focus on diagnosing and treating dermatologic conditions in primary care settings.  They are designed for  Medical, Nursing Practitioner and Physician Assistant students interested in primary care.
Part 3: Complete one Retrospective Session during Spring quarter
This relational and interactive session will give students the chance to reflect and make meaning of their IPE experiences.  Students will be provided tools and other resources to continue this aspect of their professional identity development and skill set throughout their training and entry into practice. 
The same session will be offered six times during Spring quarter. All sessions will be held in person in the new Health Sciences Education.
Wednesday April 17, 4:30-6:00pm

Wednesday April 24, 5:30-7:00pm

Wednesday May 1, 4:30-6:00pm

Wednesday May 8, 5:30-7:00pm

Friday May 10, morning time TBD

Wednesday May 15, 4:30-6:00pm
Registration for Part 3 will open in Winter quarter 2024.
Questions about the IPE Core Curriculum?  Contact Tracy Brazg: tbrazg@uw.edu