Collaborate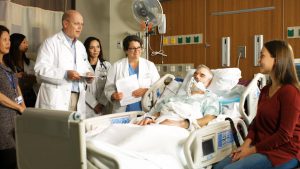 This collection of self-study modules covers essential components of patient-centered heart failure clinical practice. They provide a framework for healthcare professionals and students interested in learning about up-to-date guidelines for heart failure care. Developed through an academic-practice partnership between the University of Washington (UW) School of Nursing (SON) and UW Medicine's Regional Heart Center (RHC), topics covered in this series were specifically chosen to enhance clinical practice and improve heart failure outcomes throughout the Washington, Wyoming, Alaska, Montana, and Idaho (WWAMI) region and beyond. The self-paced modules are freely accessible and may be completed in any order. Additional modules will be added as they are completed.
Communication & Decision Making in Advanced Heart Disease
Detecting & Evaluating Cognitive Impairment in Heart Failure Patients
The Role of Home Telehealth in Care Delivery for Heart Failure
Depression in Heart Failure
Management of Acute Heart Failure from Admission to Transition
Identifying Bias in Clinical Settings
Population Health
Living Well with an ICD
Transitions of Care
Acknowledgements
The Heart Failure Care Management Modules are supported by the Health Resources and Services Administration (HRSA) of the U.S. Department of Health and Human Services (HHS) as part of an award totaling $2,090,495 with 0 percentage financed with non-governmental sources. The contents are those of the author(s) and do not necessarily represent the official views of, nor an endorsement, by HRSA, HHS or the U.S. Government.