Barnga is a simulation game for educators and students that helps players address challenges they may face when interacting with a different profession's culture. Each group of players receives a slightly different set of instructions for a card game (ace is the weakest or strongest, spades are the trumps cards or there is no trump card, etc.). The winner and loser of each group will then rotate to play with another group; the players are not told that the rules of the game are different in this new "culture" and will be forced to resolve communication problems with people who do not share their understanding of the rules. Total time needed for the activity is 90 minutes. Barnga covers IPE competencies in all four domains.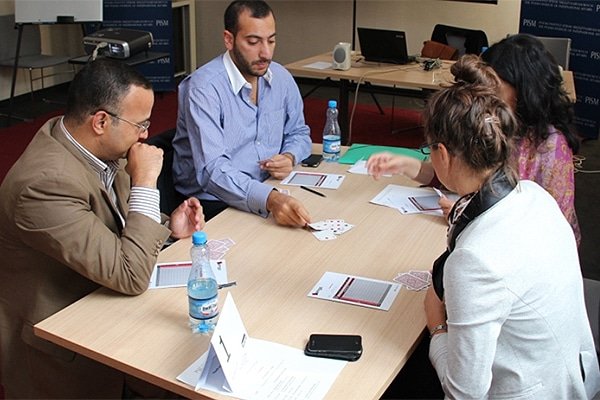 Pencils and blank sheets of paper for each table to record scores.
A bell or timer to start and end each round.
A deck of cards for each table. Each deck must be modified so that it includes only the following cards: cards 2–7 in each suit and all four aces.
A numbered sign for each table (Table 1, Table 2, etc.).
Printed rules for playing "Five Tricks" (from the Tournament Instructions), one set per table and one copy per player. Each table will receive one of ten slightly different set of rules.
Barnga was developed by educational psychologist, Sivasailam "Thiagi" Thiagarajan, PhD. Barnga is played by thousands of people all around the world to increase awareness of diversity and differences in intercultural communication.